Phuket Golf

"Exceptional Phuket golf courses together with perfect beaches make Phuket one of the best golf destinations in Asia. Add the tropical climate, the nightlife, the amazing scenery and the wide selection of courses and you have an irresistable combination".

Phuket golf courses have been one of Asia's best kept secrets but the word is spreading as more and more tourists come to Phuket.
The courses are beautifully maintained and manicured and after a hard round of golf, how about relaxing in one of the well appointed clubhouse spas?
And here's something I've never heard of before… you can even have a cool drink and a snack every few holes at one of the refreshment huts… something unique to Thailand golf.
Come to think of it… there are quite a few things unique to golf in Phuket.
For example, caddies are compulsory. They only cost about 500 baht per round which is usually included in the price of the green fee.
They're actually very knowledgeable about the course and the game which only adds to the whole unique experience of playing golf in Phuket
If you feel like walking they'll pull your clubs around in a trolley… or ride with you in the buggy if you prefer. In fact on some courses it's compulsory to use a golf buggy.
Not so great if you're playing golf for the exercise!
You'll actually be allocated a caddy on arrival at the club and they'll look after your clubs until you tee off.
They'll also clean your golf ball, give you advice on the line of a putt and try to calm you down when you're having one of those days on the course.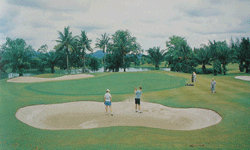 Obviously all these things are greatly appreciated by most players and it's customary to give the caddies a tip at the end of play.
A couple of things to keep in mind before you play on Phuket's courses… during the high season the cost of hiring a buggy can be at a premium… and all Thai golf courses have a 'soft spike' policy so make sure you bring along the correct shoes.
You may be pleased to know that you don't even need handicap certificates or club memberships so the golf courses are pretty much accessible to everyone from beginners to advanced, which is probably pretty good news to some of us.
Hope to see you on the golf course in Phuket someday soon!
Stay tuned because I'll be letting you know more about the different Phuket golf courses (listed below) in the near future.
Blue Canyon Country Club, Canyon Course
Blue Canyon Country Club, Lakes Course
Laguna Phuket Golf Club
Loch Palm Golf Club
Mission Hills Phuket Golf Resort & Spa
Phuket Country Club
Thai Muang Beach Golf & Marina