Phuket Rental Villas… 'Samsara'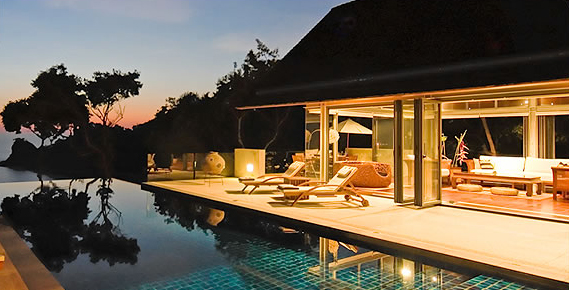 "I knew that choosing some of the best Phuket rental villas was going to be a hard job!"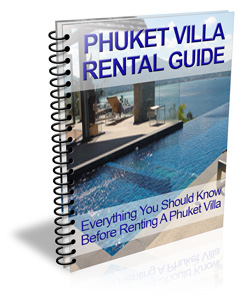 Not because Phuket rental villas are hard to find (well… actually some of them are because they're so private) but because there are so many beautiful villas to choose from.
Click here to get your FREE copy of the Phuket Villa Rental Guide
I've just spent half a day wandering around a collection of amazing villas called 'Samsara' situated high on a cliff overlooking beautiful Kamala Bay and the Andaman Sea on the west coast.
They call this area 'millionaires mile' because there is such a concentration of million dollar luxury villas in this part of Phuket.
These villas are in a small group and one of the villas available for rent is called 'Benyasiri'… don't you love how some people like to give their homes a name!
The only way to get there is along a small little road that's really hard to find which only adds to the privacy of these luxury Phuket rental villas.
Even though I had good directions I still drove past the entrance and had to turn around and come back before I found it… thanks to Peter Tkac who manages the villas.
He waited for me at the turn off to make sure I wouldn't get lost.
Peter tells me he has to do this for most people who rent the villas for the same reason… so you can be sure that you'll be getting lots of privacy when you stay here.
A five minute drive along this bumpy road and there you are… just a little further through the security gate and awaiting you are the most amazing views.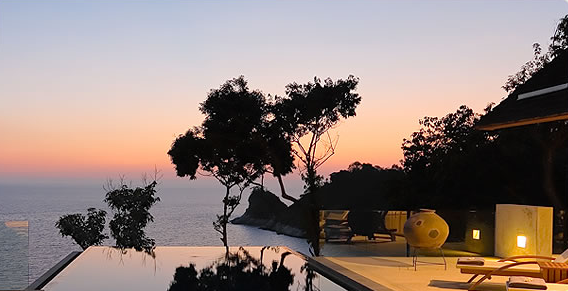 Even the car park has a view to die for!
I managed to take a few photos of the views from some of the villas and it took all my will power not to jump into one of the infinity pools that seem to launch themselves into the ocean.
Peter… and his business partner John Chadwick, make sure that when you stay here, every detail has been attended to and they make sure nothing is left to chance.
Peter has even told me that he's accompanied guests to the airport to make sure that everything was taken care of… even helping with the baggage!
So you'll be in good hands when you stay in one of these Phuket rental villas.
You really need someone involved who really knows the business and Peter and John have been doing this for awhile now.
Peter has worked in various luxury resorts around the world and knows what it means to look after guests and it really shows as he was explaining all the little things they attend to… just to make sure you enjoy every minute of your stay here.
Inside the villas, some of which have up to six bedrooms, you'll find home theatre systems, fully equipped kitchens, internet access, air conditioning, private balconies, jacuzzis (inside and outside)and virtually every bedroom has a view over the sea.
These villas have up to three levels so there's plenty of room to spread out and relax.
Peter told me that two families were renting one of the villas and when you consider the cost per family for this level of luxury… you're getting much better value than staying in one of the five star resorts on the island.
Peter and John have the exact prices depending on the season but starting at US$750 per night divided by two families is amazing value for your own luxury Phuket rental villa.
This sometimes may also include a chauffeur, maids, chef, and gardeners etc.
And just look at some of these photos!
Contact me if you require more details.
You'll find that these luxury villas are not as out of reach as you might imagine!