Phuket Villas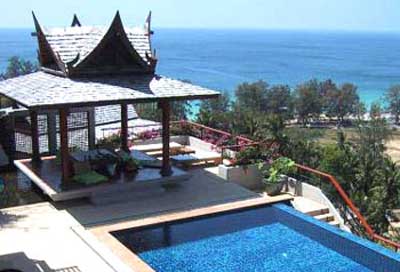 "Why not consider Phuket villas for rent for your next vacation in Thailand?"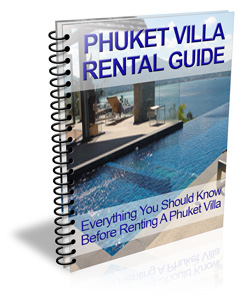 Most visitors to Phuket automatically assume that they should stay in one of the many resorts and hotels on the island.
While they will no doubt find that there are hundreds to choose from, many of which are absolutely luxurious and in magnificent locations, there are certain advantages to choosing from the selection of villas available for rent or sale.
One of those advantages can in fact be the cost.
Click here to get your FREE copy of the Phuket Villa Rental Guide
Luxury resorts and hotels in Phuket can be quite expensive in the high season and when you consider all the other outgoings such as hotel restaurants, room service, mini bar, alcohol, beach activities, and a myriad of other hotel expenses… well you know what I mean.

They all add up and you end up blowing the holiday budget!
Of course Phuket villas can be quite expensive… some over US$30,000 per week with everything included!
There is though a large choice available and if you're willing to pass on the maids, chefs, drivers etc. then you're sure to find one that suits your budget and requirements.
What I like about having your own villa is the fact that you feel like you're actually living in Phuket rather than visiting (except you don't have to go to work!).
Sometimes I wonder if people staying in resorts and hotels ever experience the rest of Phuket. I know that on several occasions I've stayed in luxury resorts around the world and never left the hotel grounds!
Having your own villa, whether you rent one or own one (which you can rent out to other people through an agency for the rest of the year as many people do)… makes everything seem more flexible and "more on your own" than when you stay in a resort.
You can eat cheaply at local restaurants, have noisy parties, friends can stay over with you… either local or from overseas… and you're not disturbed by hotel staff who want to make up your bed during the day.
So… consider the range of Phuket villas for rent or sale for your next tropical island vacation.
In the future the links below will provide more and more information which will help you choose which of the many Phuket villas available is best suited to you… and also help you decide whether you should rent or buy.
I only want to tell you about those properties which involve people that I know and which are of high quality.
You still have to do your own due diligence to make sure that any choices you make are right for you.
As far as rental villas are concerned, contact my friends Peter Tkac and John Chadwick who manage a selection of the best villas on the island.